Embellishment Techniques
FOILING
Foiling or hot foil stamping is a timeless embellishment technique used in specialty letterpress printing. It is the combination of heat and pressure that transfers a debossed metallic image onto the stock. We use magnesium dies on our presses so we can foil on a wide variety of stocks. We believe it also gives a superior finish over other foiling systems.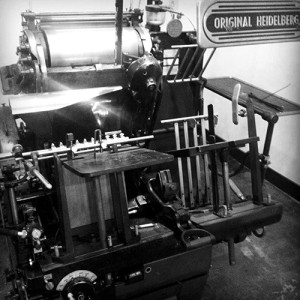 It is a beautiful, premium technique that can be combined with letterpress, digital and offset printing. The foils can be metallic, opaque or clear.
Many factors combine to ensure how a foiled project is reproduced. Careful consideration of the design including font size and any line widths. Stock selection and finish is also critical in understanding how the finished product will reproduce.
As with any specialty job, we recommend that you contact us prior to reaching finished art stage so we can collaborate and advise on the best approach to reach the most optimum result.
EMBOSSING
The opposite to a debossed impression is embossing. This is where the image is raised. Generally with no ink, however and inked surface can be embossed as can a foiled area. Embossing adds a real feeling of luxury to a printed product be it a business card or a special event invitation. As with all of our embellishment techniques it is recommended that you engage us in the concept design phase to ensure you can get the best result. Its good to keep in mind for design purposes that an embossed piece will have the reversed image debossed on the back of the sheet. Therefore most of the time an embossed piece should be one sided.